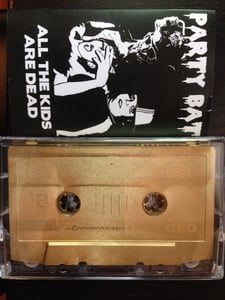 $

5.00
Recorded live in the UFC Octagon Recording Facility (UFC stands for unusually fucking cramped), House of 1000 Headaches and the Charter School. Done by us with the shitty Super Computer, the Beast That Eats Tape. Guest engineers include referee Herb Dean and Drew Barrymore.
A Side:
1. Oh Donna
2. Retard Zombie
3. Drug Blimp (w/ evil cop)
4. Do You Wanna Party With A Bat (original)
5. Troll Soup
6. Buried In A Blackout
7. I Stole Her Beer
8. Bat Shit Brain
9. Halloween (Danzig)
10. Hondurian Baby (French radio)
B Side:
1. Let's Party You're Dead
2. Say A Command (street)
3. The Dog Is Drunk (fried egg)
4. Budweiser & Blood (hi-tech version)
5. Halloweiner (best version)
6. Everyday Zombies
7. Kidz Party
8. Blue Bozo (white lips)
Exclusive cassette tape release manufactured on the Nebraska Church Machine by Rolled Gold Records.
"If it ain't gold, It ain't Rolled Gold."